Get a glimpse into life at Allegheny, and the exceptional experiences we provide for students, through in-person and online visits.
---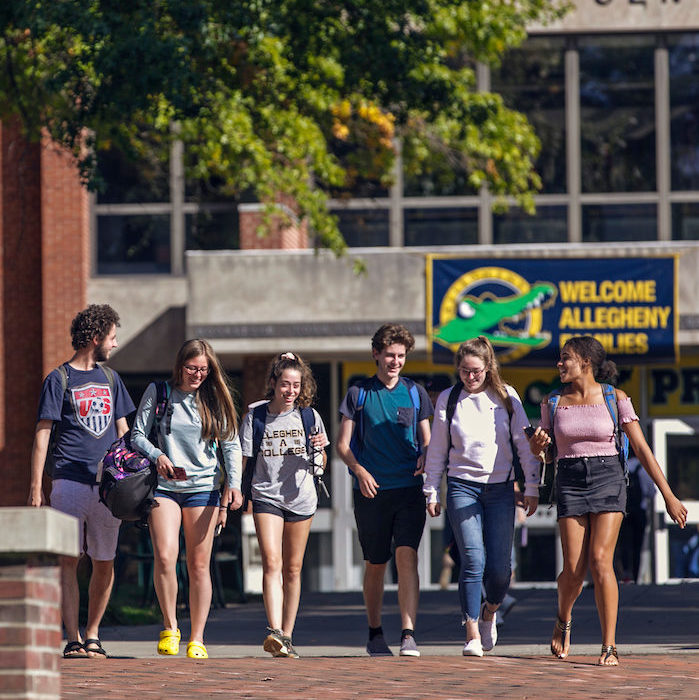 On-Campus Events
Learn more about Allegheny with our carefully arranged, safe, campus visits. A daily campus visit typically includes a campus tour and a counselor session, plus other meetings with Allegheny community members if requested.
Online Events
Ready to learn more and connect with our community? Allegheny is hosting a variety of online events for prospective students and their families. We're excited to meet you!
Off-Campus Events
Allegheny provides opportunities around the country for students to connect in their own geographic areas such as college fairs and special events for admitted students.
Virtual Tour
Explore Our Campus Online
Video: Meadville is Home
---
Photo Galleries
Academics & Research
Allegheny is one of the few colleges in the country to require students to take both a major and a minor — each of which is in a different academic division. Those major-minor combinations help to cultivate intellectual growth and the creative, big-picture thinking desired by employers and graduate schools. Allegheny is consistently honored among the nation's top liberal arts institutions for undergraduate teaching, research, and first-year experience.
Athletics & Recreation
As a founding member of both the NCAA and the North Coast Athletic Conference, Allegheny is committed to the philosophy that athletics can and should complement academic life rather than compete with it. The Allegheny Gators field 23 varsity athletic teams that compete in NCAA Division III. We also offer a range of club and intramural sports, with more than 200 students participating in each of those opportunities.
Gator Dens
At Allegheny, we take the phrase "live and learn" to heart. Students build connections and community across campus, from our residence halls to our student-run Grounds for Change Coffeehouse to gatherings in Gator Quad.
International
Our students represent 70 different countries either through citizenship or living abroad. Our International Education Office in the Allegheny Gateway connects students with enriching opportunities, including Experiential Learning seminars led by Allegheny faculty and semester- and year-long study away programs.
Meadville & Northwestern PA
Allegheny's campus is perched on a hill overlooking Meadville, a county seat that has been recognized as one of the Top 100 Places to Live. Meadville anchors an area of 15,000 residents and is where Allegheny students do everything from enjoying live local music to taking in the latest movies, from creating art installations to getting outdoors for hiking, canoeing, and more.
Our Beautiful Campus
The nation's 32nd oldest college, Allegheny is situated on a 79-acre central campus that includes historic architecture and boasts beautiful views during all four seasons.
Student Life
At Allegheny, opportunities to pursue one's passions are limited only by the imagination. Our students create, laugh, dance, play, explore, and serve together every day. A diverse campus life, with more than 120 student-led organizations, sets the stage for a vibrant college experience.
Arts Life
Allegheny encourages students to explore their artistic side — whether they are interested in the creative and critical study of theatre, rhetoric, and media; discovering their passions in dance, music or art; or performing on stage as part of the College's Playshop Theatre. Allegheny offers majors and minors in several aspects of the arts, as well as lessons, clubs, and organizations that allow students to express their artistic talents.