I don't know about you guys but this is going to be my first Halloween in a long time. The Middle East doesn't celebrate it like European and western countries do, so I may have gone a little bit overboard with decorating my dorm room!
My roommate and I even have a little gourd garden going on.
Oh yes, it's been good folks.
On top of the decorating, campus just has this natural Halloween feel to it once the leaves start falling. That effect is also probably due to all the old buildings we have. I mean, Reis Hall is literally an intricately creepy gothic "house on haunted hill" deal. And now I shall call upon the beautiful camcorder style of old creepy movies (i.e., the Blair Witch Project, an amazing Halloween watch if you guys were needing one) to showcase the creepiness of the old buildings on campus.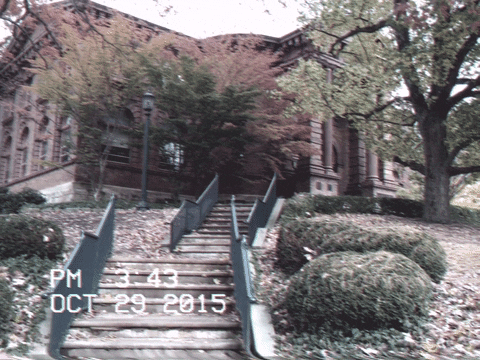 We should also talk about some campus legends. Like the one surrounding the compass that lies on the path between Carr Hall (the environmental science and physics building) and Brooks Hall (the all-female dorm & Coed dining hall). The compass has the following message engraved into its center: Allegheny is every student who has ever walked these paths. Legend has it that if you were to step on the engraved message in the center of the compass, it would be as if you had walked over all past, present, and future 'Ghenians and you will have the worst luck for your mistake of treading on their memory.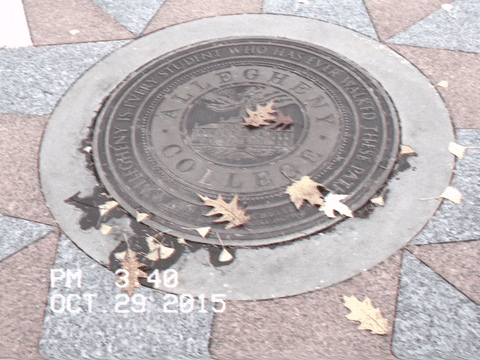 Speaking of Brooks Hall, let's talk about a lesser-known legend among students. I heard this one from a girl who lives in Brooks, it's allegedly as legit as the college itself. This is the story of Karen. Dear Karen was a girl at Brooks long long ago. Her boyfriend was rushing a fraternity at the time and one of the rushing events was a pinning ceremony. The ceremony entailed having a male student walk to Brooks in the dead of night with his frat brothers following behind him with torches. At the dorm, the male student would climb to the balcony above the steps of Brooks where his love would await him with her sisters on the balcony and he would give her a pin. According to legend, when Karen's boyfriend attempted the pinning ceremony, he lost his footing as he climbed up to the balcony and fell to his death on the steps of Brooks. Wrought with grief and hysteria, Karen fled from her sisters to her room. Wailing, she locked the door before throwing herself from her window on the third floor of Brooks. Her spirit is said to haunt the halls and her old room is apparently closed off and uninhabitable due to the random noises and furniture moving in there. Past residents have even requested room changes due to the paranormal activity in that hall.
Or maybe even more eerie is the ghost of McKinley's cow that people can still hear mooing in the tower of iconic Bentley Hall…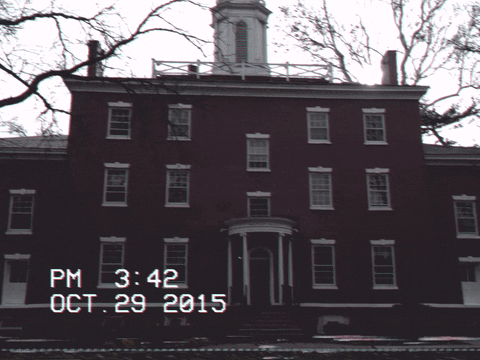 Actually, I have no idea whether or not ghostly bovine echoes are heard throughout Bentley, I just made that one up because I wanted to show you guys how cool Bentley looked.
As for the other stories, I've heard all of them on several occasions but I cannot personally verify any one of those tales and am myself a bit skeptical about them as well. Although I certainly do love me some good campus ghost stories. And if you have any that I don't know about, you're free to email them to me. In fact, you're more than encouraged to do just that.
Stay creepy, Gators
Natali